ブログ変更した。ただ何となくだけど。
前回更新してから一週間以上経ったし。そろそろね。
実はdoulosのリクルートチームで東京周辺を飛び回っていたのであります。俺以外のメンバーは西東京の方でもいろいろやってたんだけど俺は東京のチームの手配とかして東京だけ参加した。
本当に素晴らしいときになった、Doulosの働きにまた参加できたのも嬉しかったし、神様の御言葉を語る事の素晴らしさ、また神様が目の前で働かれる事も見たし。
最初の3日間はhi-b.a.にいって、高校生を伝道と世界宣教にチャレンジできた、井の頭線は容赦なく250%人が乗るので、チームメンバーは電車はこんなにも人が乗る物なのかとおどろいて笑いが止まらなくなってた。
土曜日は千葉へ、渋滞が怖かったから7時とかにでたけど、そこまでひどくなかったので結構早めについた。真は車を洗車する事に。
洗車の機械にハナもビックリ。
well. i changed the blog. i just felt like it.
it's been more than a week since i updated my blog, you maybe wondering what's up with me. well i've been on a traveling team in Tokyo.
they've been going around in Japan but i joined just in Tokyo.
well it was just so great.
i loved to be in Doulos ministry again. challenging people for mission. preaching God's word, and being able to see God working in front of my eyes.
first 2 days, we went to international hi-b.a.(high school born againers) on friday, we went to Japanese hi-b.a. to challenge high school students to mission. on Saturday, Sunday, we went to 4 churches and had presentation in 3 churches. on monday, we went to Tokyo Christian University.
well it was reallygreat. girls were so surprised by how much people can fit into a train(literally we were PACKED!!!)
on saturday,we left to chiba like 7 am. cuz we were afraid of traffic jam. since we didn't have big jam.we got there a bit early. Makoto Decided to wash his car.
the car washing machine freaked Hannah out.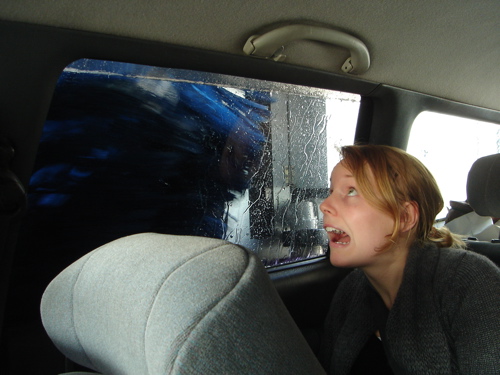 日曜日は赤坂にある某教会にいった。
ハナの友達がいるって言ってたけど、1人しかいなかったし。この教会はチームの誰にも合わなかった。みんなで帰りの車で話した事は、
この教会はご利益信仰のにおいがした事。
簡単に言うと、この日のメッセージは「いっぱい献金しましょ。いっぱい戻って来るから。」
まぁマラキとかに「試してみよ」っても書いてあるけどさ。そのメッセージ、6つのポイントにわけて話してたけど、聖書的かどうか分かんなかった。あんま聖書開かなかったし。
あと、賛美(っていうか音楽)の時間はただのパフォーマンスに見えた。
アモス 5:23 あなたがたの歌の騒ぎを、わたしから遠ざけよ。わたしはあなたがたの琴の音を聞きたくない。
って書いてあるしさ。俺はこの「賛美」の時間を通して神様の御前に出れなかった。
この教会では50人の人が今年救われたらしい。俺は素直に喜んでいいかどうか分からなかった。本当に信仰に導かれたなら嬉しい事だけど、この教会の人たちは何か欠けてるんじゃ?その欠けが死活問題だったらどうなってしまうのだろう?彼らは何を信じているのだろう?
そのひとり子、神の子羊の血によって私達を罪から、死の刑罰から救ってくださった、私達を愛してくださる神様?それともいつでも「祝福」してくださる金銭的な神様?(俺は祝福は物質的な物ではなくて、永遠の神様との関係の事を指してるって信じてる。)
俺達はあの教会に普段行っていて普段どのようなメッセージが語られているかを知らないし、裁く事はできない。裁くべきじゃない。
これらの事を帰りの車の中で話した後に、みんなで祈りなさいって神様が導いてくださっていのった。友達のために涙して祈っていた姿もあった。
正直、俺の教会でDoulosの紹介ができればよかったのにって思ったけど、どうだろ?神様は裁く代わりに祈る事を教えたかったのかな?って思った。
Sunday morning. we went to a church in the middle of Tokyo.
what all of us thought was... this church smells like prosperity teaching church.
basically what the pastor preached that morning was "you Give a lot. God will give you a lot more. " okay, i know that in Malachi it tells us to test God for giving offering. but, the pastor preachied with 6 points. they didn't look that biblical. i don't know. maybe he just didn't mention which verse he God that from but looked like that service was missing something of GOSPEL the good news.
also the"worship"time. should i say Music time? it didn't help me to come before God.
Amos 5:23 Away with the noise of your songs! I will not listen to the music of your harps.
it really looked like this verse above.
they also said that 50 people were baptized in that church this year. you know what i was thinking? For 5 years no one got baptized in my church (praise God! we had 3 got baptized this November.) what do they believe? Gospel? i'll rejoyce with all of my being. if it was God' love which saved us from our sin and death panishment. through his only son, the blood of lamb of God. but i can't, and souldn't if their GOOD NEWS is missing something. it's a Life-Death issue. if what they believe is only in God who blesses them and "Good all the time" (i really believe being blessed means being right with God.)
well. we are no one to judge. we just went to that church only once. we never know what they preach usually. so in the car after the service. we talked about it and i really felt God telling me to pray for the churches preach prosperity Gospel. one of us was even crying as she prayed for them including her friends.
being real honest. i thought"gosh, we should have stayed in my church and had presentation" but i believe God brought us to that church to teach us to pray instead of judging.
午後は、世田谷の教会に。会堂がでかいから、人数少なく見えたけど、結構いた。実際。そのあと神様との関係が回復した人もいたし、
あと、敦に会えてよかった。人見知りも発動しなかったしね。
大戸屋にご飯食べに行ったんだけど、新装開店だったぽい。うけたのが、働いてた人がすごかった佐藤さんと鈴木さんと伊藤さんだよ?どれだけ典型的に行きたいんだろう?(笑)
in the afternoon, we went to another church to have 3 hours program. it was great. though it looked like too less people because of how big the place was. we could do Missions bag presentation. so it' good.
after the program, there came a man when i was talking with my friend. he said.
"look, you asked in the message, "Can God say I know. when we say to him that we love him?" i can't even say to him that i love him. yup,i come to church every week. i join bible study. i like God. i know God doesn't like my life style and telling me to quit that. but i don't want to. i love this life. and i tell him No"
so we talked like half an hour about why living the life of integrity is important and God pleasing. that living a bouble life is not possible since it can't be gray, God pleasing or not. black or white.
he really didn't want to change. but i could see that God was really talking to him. the fact he came and talked to me could testify that.
so i said "let' pray. and you, pray too in the end."
we started to pray. i prayed, my friend prayed. and he was on his knees. started to weep and pray "God, i don't know where to begin and what to say, i know that i will fail again and again. but i realize that it's not my power but yours to keep me going. i want give it a try again.... i want to Love you"
it was a glorious moment. God opening someone's heart and speaking to him, showing how much he loves us....Him.
i couldn't help crying. thank God. i really do. he is amazing God and this is why i pray to him not to exclude me from his mininstry.
he's on the right side of this picture. please pray for him. that he'll not give it up. being overwhelmed by sin and dissapointment toward himself.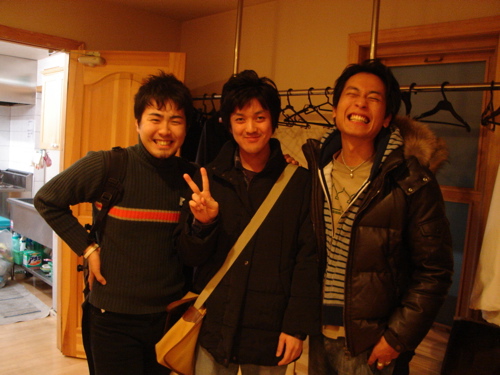 月曜は、また千葉に行かなきゃ行けなかったんだけど、月曜だから渋滞が怖いので6:30に出ることにした。また朝日見ちゃったよ。
女の子達は俺と真が準備できて車に行った時に起きた。
日本人の俺達には信じがたく、ゆるされざるこの事態をみて、先に出かける事にした。
ように見せかけて車を裏に停めてみてたんだけど、バックミラーをみるとアイファが歯を磨くてがめっちゃ早くなってた。
結局7時に出たんだけど、渋滞ゼロアホか、ってか俺らびびりだわ。
結局9:30について、フィキの家でだらけてた。まぁいいけどね。
俺、通訳したけど、どうしても日本語が出てこなくて、「いい感じの伝道方法」とかいったら後ろの方で児玉たけし爆笑。
いいんだよ。俺はあらたまった感じのしゃべり方普段しないもん。
Monday, we had to Go to chiba again to Tokyo Christian University. since it was on Monday, we expect a traffic jam like really bad one. we decided to leave 6:30. though we told the girls about it, they weren't awake when Makoto and I got out and were ready to leave. so we left.
actually, we pretended to.
Ai hua's hand was moving soooooooo fast as we saw her brushing her teeth on the mirror as we left and went to the back of our house.
ok, we left 7am we had to get there by 11:30. we got there 9:30 haha, there was no traffic jam that's like a miracle.
but we, Makoto and I looked stupid lol it's ok. we had a great time in Fiki's house.
as we had a program and when i was translating Hannah's testimony, i couldn't remamber a polite way of saying "good way of telling the gospel" and used slang. my friends at the back were laughing a lot.
it's ok. i don't talk formally usually.
そんなこんなで1週間があっという間に過ぎていった。
こんなアホなチームでも用いる神様に感謝。
time flied and we are done with Tokyo.
thank God for using us silly people for his Glory.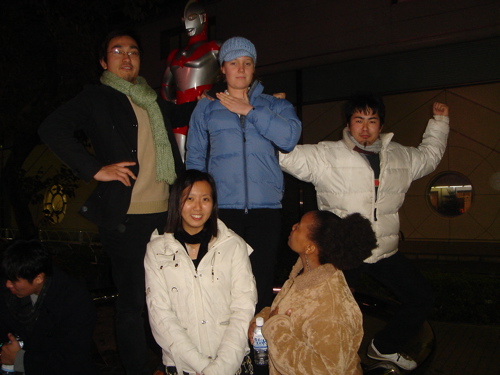 奥多摩のキャンプの準備しなきゃ…。